Custom Line 120', the new jewel of the series and the first Custom Line planing yacht designed by Francesco Paszkowski Design, is a collaboration between the Milanese architect's studio, the Ferretti Group Strategic Product Committee and Engineering Department. The Custom Line 120' reimagines and combines many stylistic elements, even from automotive design and residential architecture, adding thorough research to bring out shapes and volumes, through layout choices in line with the most recent trends in contemporary living.
As is tradition, everything is personalized to the owner's wishes, because a Custom Line yacht represents those who live onboard. Totally new is the design of the hull shapes and lines, which will be realized by infusing and assembling the built structures together, to ensure maximum strength and lightness, thanks to the use of carbon. The project proposes an aesthetic standard with maximum formal simplicity that creates a unique example of the exterior design and interior settings. The profile is sleek and powerful: strong lines running from bow to stern, giving life to an exciting scene of alternating materials and colors of structural materials and the dark tinted windows; to the cockpit cover and the hardtop, both in metallic gray, give a more aggressive and dynamic look even while in port or at anchor.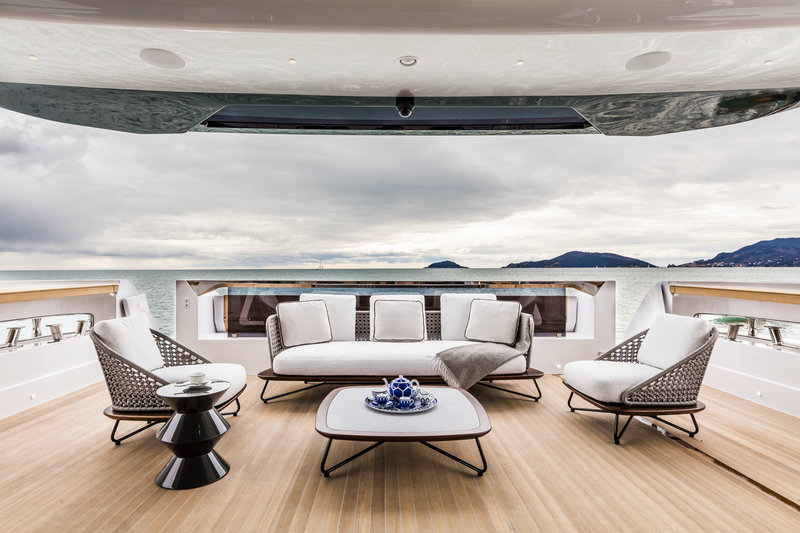 The windows in the hull are large and generous, while on deck the windows are floor to ceiling and create direct contact with the sea thanks to the pulpits which replace traditional gunwales. The cockpit design is striking with its contemporary style, thanks to the innovative large window that is divided in two sections and can be opened separately. Another prominent innovation is the elevation of the superstructure. This height difference, compared to the bridge, allows for an unparalleled view from the raised salon. The side windows, which are slightly curved, enhance the feeling of living close to the sea.